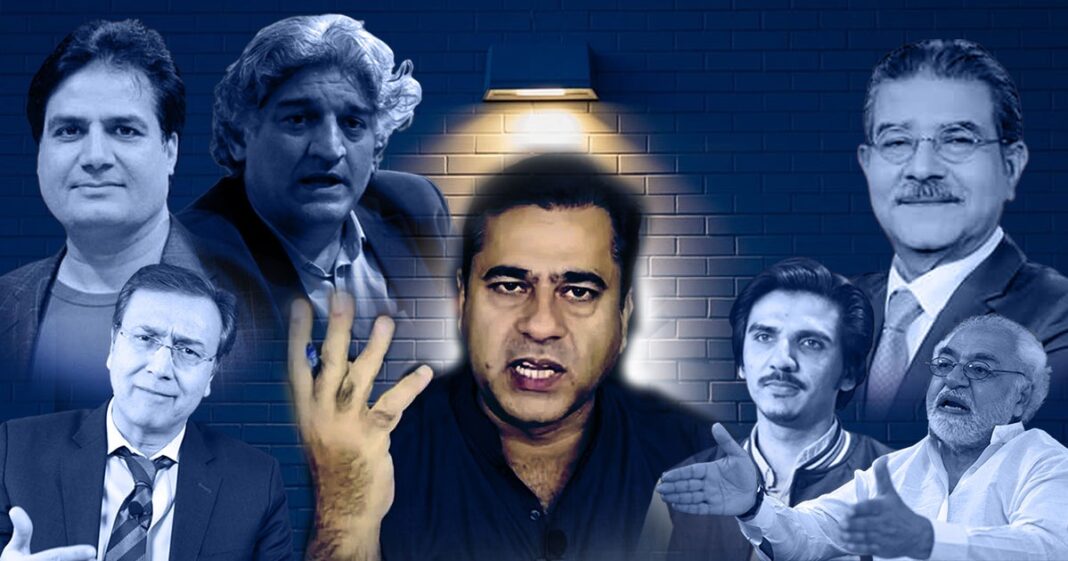 Three months of tumultuous political upheaval and media clampdown in Pakistan had seen several journalists taking pre-arrest bails from Islamabad High Court, including Arshad Sharif, Imran Riaz Khan, and Sabir Shakir, on FIRs registered against them across the country. Sabir Shakir, who left the country to perform Umrah in May, did not return due to personal threats of injury against him. The suppression against freedom of expression reached a zenith on July 5 when prominent journalist Imran Riaz Khan was arrested by Punjab police at Attock, at the borders of Islamabad, and taken for physical custody at Attock police station. Imran Riaz Khan, a popular Vlogger with a subscription base of over 3 million, is watched regularly by millions, admired for his straight-talking on issues, and particularly in recent days over his views on the "foreign sponsored regime change operation."
Islamabad police informed Islamabad High Court that he was arrested on cases beyond the jurisdiction of Islamabad territory on what had been, until that point, concealed FIRs against him. However, the judicial magistrate in Attock refused the police request for physical custody and said the case seemed not to be a district police case but that of cyber law, and Imran Riaz Khan was taken to a special cyber law court – court 28 in Rawalpindi sessions court, there another judicial magistrate, Chaudhury Pervaiz Khan examined the case in a detailed proceeding and wrote in a landmark decision that out of the seven sections being applied of the PECA amended ordinance on cyber law, five sections were redundant and not relevant to Imran Riaz's case. Chaudhury Pervaiz Khan sent the case back to Attock, where the judicial magistrate Tanvir Asghar heard the case after midnight and wrote an eight-page detailed decision saying he could not hand over the custody of Imran Riaz to the police, saying it was a flawed case and no arrest is warranted and ordered that he be freed. However, police from several other districts of Punjab were there to take custody, including Lahore, Chakwal, and Toba Tek police.
It was discovered that a total of 18 FIRs had been registered against the anchor person across Punjab alone. He was arrested by police from Chakwal from outside the courtroom immediately after his release based on another 'sealed' FIR, many related to treason cases, and his having hurt some random person's feelings when making comments about the army or other institutions of the country. He was taken from one district to another district, and then finally, on the appeal of a group of prominent anchor persons and other media persons who reached out to the Chief Justice of the Supreme Court of Pakistan, Umar Ata Bandial, was asked to intervene in this matter of great public importance. Media persons requested the judiciary to intervene in the interest of freedom of expression and human rights. Finally, Lahore High Court established a special bench and proceedings on Saturday (Eid holidays had already begun), and Imran Riaz Khan was released.
Subsequently, one of the petitioners against Imran Riaz Khan, Saqlain Safdar, took back his FIR from Chakwal and said in an interview with Saddiq Jan that he had never heard any of Imran Riaz Khan's Vlogs; he had been approached by an unknown man and been asked to do the FIR, Saqlain did not even have to go to the police station for the FIR, it was filed without him being physically present, and he had no clue who was the lawyer who went to court for the case against Imran Riaz Khan on his behalf either.
Restrictions on Journalist freedoms are not unusual in Pakistan, but images such as the popular Vlogger in police handcuffs had not been seen since the 1980s when Gen. Zia ul Haq had created an era of terror for the media and political personalities. The country has no freedom of speech provisions in its constitution; it prohibits speech against state institutions, including the Army and the Supreme Court. There is no free space for public debate and expression, and individuals can be hauled up in front of a court for apparent 'high treason,' 'contempt of court,' or 'maligning institutions.'
Before Imran Riaz Khan's arrest, he had made several videos criticizing and highlighting the military's alleged role in Pakistani politics; the last one before his arrest was addressed directly to the Army Chief Bajwa, asking him to answer his questions in particular about why he was being harassed for not supporting the current government, given, he was shown evidence of their corruption. Imran Riaz Khan's doctors suspect he may have been poisoned, and he was stopped from traveling to Dubai for tests. Overall, the whole episode has left a very sordid episode in Pakistani media history once again.
According to the World Press Freedom Index 2022 report, Pakistan dropped 12 points in the index, from 145 in 2021 to 157 in 2022. The report issued by the Freedom Network, Pakistan-based media rights watchdog that tracks violations against journalists and attacks on freedom of expression on an ongoing basis, showed that over 86 attacks against journalists, including those working for digital media, occurred. The victims or their families attributed most of these attacks allegedly to state actors, and satirical references were made to being picked up in black Vigo's on social media. Matiuallah Jan, Asad Toor, Absar Alam, and in the last couple of weeks, senior journalists Ayaz Amir and Sami Ibrahim were also attacked by 'unknown assailants.'
What made the Imran Riaz case different was a prominent former TV anchor and a journalist being publicly handcuffed and paraded on TV on the pretext of treason, violating several sections of Pakistan's penal code, including defamation and statements conducive to public mischief, as well as various sections of the 2016 Prevention of Electronic Crimes Act. Ironically, a journalist always identified as being pro-establishment and supporting the army.
Pakistan's Electronic Media Regulation Authority (PEMRA), responsible for regulating and issuing broadcast, print, and electronic media licenses, regularly warns electronic news broadcasters against airing content that ridicules state institutions – this is generally eponymous for the judiciary and army. Many channels over the years have been taken off air or fined for transgressing its regulations. There is no doubt that Pakistani power wielders are frightened of free speech, and it is not until all major parties develop a consensus over the importance of freedom of speech that the country can move ahead.