A common man who can never think of owning his house is our target. And our second target is to provide employment opportunities to our jobless youth.

Imran Khan
Roti, Kapra aur Makaan political sloganeering has won hearts and minds when Bhutto fired up his supporters on this call since the 1970s. Pakistan with a population of around 210 million is the sixth largest country in the world. It has a poverty rate close to 30 percent and ranks low on all human development indices.
Improved housing helps to reduce crime rates, increase school attendance and reduce diseases faced by the populace. Ensuring access to adequate, safe, and affordable housing and basic infrastructure is part of the Sustainable Development Growth (SDG) goal 11 on creating resilient communities.
Since 1947, Pakistan has only built 4.9 million houses and the country faces a 10 million shortfall in housing stock. Against an annual demand of 700,000 housing units, the country constructs between 250,000-300,000 houses, leaving it with a shortfall of 450,000 houses per annum.
The government needs to work on creating a housing eco-system that works for the developer, financier, and the home buyer.
Urban areas face a shortage of over 40 percent and the remainder in the rural areas. Over 47 percent of urban households live in katchi abadis (temporary settlements – 8 m in Karachi and 1.7m in Lahore) and in overcrowded situations. In Pakistan, 3.5 people on average live in a room versus the world average of 1.1 persons.
According to Ansaar Management company, only 1 percent of all housing units built yearly cater to 68 percent of Pakistan's population (which earn < Rs30,000) and 56 percent of housing units are constructed for a market which represents at maximum 12 percent of Pakistan's population (i.e. those earning above Rs100,000).
The State Bank of Pakistan defines a low-cost house as below Rs 2.5 million. An acute dearth in housing persists in the price range of Rs 1 million to Rs 3 million ($7,000 to $21,500) in urban centers where incomes range between Rs 30,000 to Rs 100,000.
Read more: Pakistanis robbed of billions by Housing Societies: Where are authorities?
While governments have made ad hoc efforts of creating low-income housing schemes, such as, Apni Basti under the Junejo government in 1987 and Mera Ghar under Nawaz Sharif in 1996; a coherent and comprehensive low-income housing policy has never been attempted.
One that holistically looks at the challenges faced by the housing demand and supply market as well as the equity of the need to provide clean and respectable accommodation for the poor. The government needs to work on creating a housing eco-system that works for the developer, financier, and the home buyer.
Currently, there are severe cracks in different parts of this cycle; which include lack of clarity on titles to give ease to the mortgage provider, little financial access to both the developer and the home buyer, and a challenging environment for developers 'ease of doing business'.
Why don't we have enough houses in particular low-cost houses
(a)  Demand side constraints to the housing market
(i)              Mortgage financing is difficult to obtain in Pakistan
People want to live in their own abodes but it isn't happening for a number of reasons. The major problem is people do not have access to cheap long-term stable mortgage financing. It is the easy access to mortgage financing which throughout the world drives people's ability to buy houses; in the United States almost 80 percent of people construct houses through loans, it stands at 33 percent in Malaysia, 11 percent in India, and 3 percent in Bangladesh.
By comparison, Pakistan has mortgage financing at 0.5 percent which is way lower than its regional peers. In Pakistan where the average income is around Rs20, 000 per month, it is not easy to finance a house. Rental yields are low in Pakistan at around 3 percent; it can cost around Rs 6, 000 to rent a house worth Rs 2.5 million.
A person living on Rs 15, 000 to Rs 20, 000 can bear this amount, but not many individuals falling under this income bracket will be willing to pay an amount in excess of Rs10,000 to pay for a mortgage to own the house.
On average, private land developers in Pakistan have to apply and obtain
19 NOCs to launch a housing scheme.
Pakistan only has 68,000 mortgage borrowers and the average loan size in 2016 was Rs6.1 million with a loan to value (LTV) of around 48 percent – which means the house buyer has to have a substantial amount of savings to put as a down payment when applying for a loan.
Additionally, the average mortgage rate charged by banks is a variable rate that is on average 3.5% + Kibor (currently Kibor is at 10% – means the house buyer is paying an interest rate of 13.5%). Internationally housing loans rates are mostly fixed and are generally between 4% – 5%.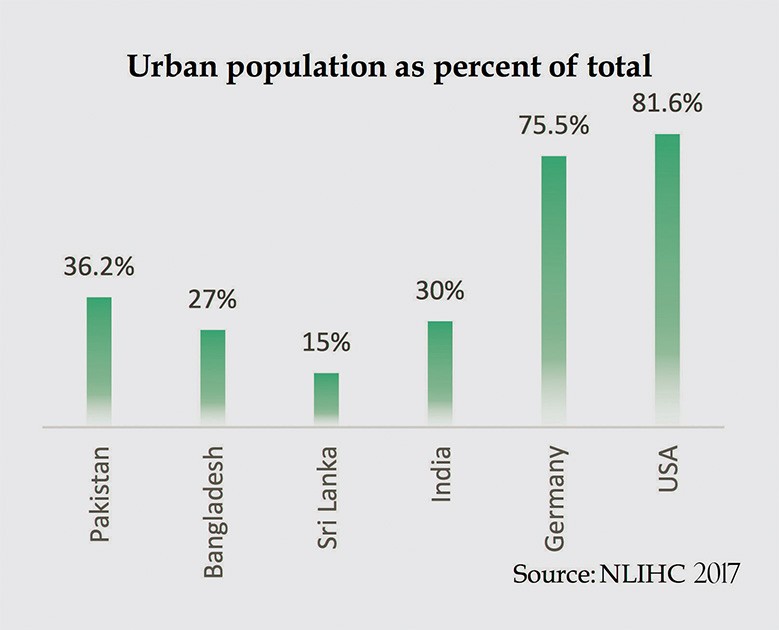 In any housing policy for the poor, the government has to ensure that the tenure of mortgage is long enough and the average rate low enough so that mortgage cost is close to the monthly rent people would otherwise pay.
In India, the RBI has assigned priority sector lending targets to banks which includes poor people housing and in Brazil commercial banks have been directed to lend R$0.65 for every R$ 1 received for deposits in savings accounts to housing finance.
Read more: Competition Commissions of Pakistan catches housing scheme lies red handed
(ii)            Mismatch of funds for banks
Pakistan's financial sector assets stand around 70 percent of GDP and private sector credit to GDP is just 15 percent; as compared to the region at 48 percent. Pakistan has around 46 commercial and micro-finance banks and they account for 75 percent of total assets of the financial sector.
Banks generally receive short-term deposits and thus prefer keeping their liabilities short-term. Hence the maximum mortgage finance loans available are generally 10-15 years. Unlike, other countries in the region – especially India – Pakistan has very shallow capital markets, small amounts and few people are invested in pension and mutual funds; which otherwise would encourage long-term capital liabilities.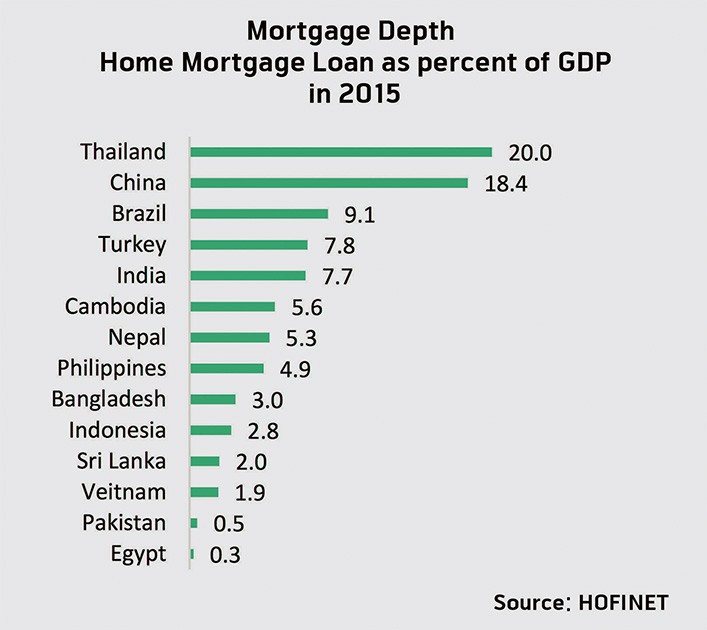 In 2016, the government introduced a mortgage refinance company Pakistan Mortgage Refinance Company (PMRC) Limited, removing the mismatch of funding banks had by providing medium and long-term funding to mortgage lenders, by raising funds from the capital debt market at cheaper rates than they would have otherwise been able to access.
This allows banks to provide at fixed rates and for a longer tenure. The federal government has exempted the Bonds and Sukuk issued by PMRC from income and Capital gains tax for five years, in order to ensure that it can play the desired role of providing cheaper mortgage finance to middle and low-income people.
(iii)              Non-transparency in land registration and titles
Pakistan still has centuries-old land registration system managed under the patwari system – which introduces non-transparency into the titles and who owns them. This creates uncertainty for banks when they wish to extend loans to potential home buyers.
In some parts of the country, the situation has improved due to donor funding such as from the World Bank, which in 2012 started a project in Punjab – digital Land Records Management and Information System (LRMIS) that has helped to remove uncertainty over title deeds in many parts of the province.
Furthermore, many large housing schemes provide buyers with an allotment letter instead of a sale deed which saves the societies from paying government transfer fees and capital value tax; however, it means banks will not provide mortgage finance on such plots or homes.
Read more: Pakistan Development Bank 
(iv)              Foreclosure laws
Pakistan for a long time did not have laws which allowed banks to reclaim properties where the homeowner had defaulted on a bank loan. The introduction in 2001of the Financial Institutions (Recovery of Finances) Ordinance (FIRO) allowed financial institutions to foreclose the property of a defaulter without the courts intervening.
However, the Supreme Court declared Section 15 of the Financial Institutions (Recovery of Finance) Ordinance 2001 – which empowered financial institutions to sell mortgaged property without recourse to court – as being "ultra vires" to the constitution of Pakistan in 2013. Given the tortoise pace at which the courts decide cases, it created a reluctance in the industry to consider new mortgage loans, given these were among the largest segment in their non-performing loan portfolio.
Islamabad is a classic example of how not to plan housing. The prime land in the city center is used by the state and govt buildings, the next layer is the residential areas using up lots of land and industry placed on the outskirts.
In order to protect the banks and encourage the housing market finance to take off the government introduced in 2016, FIRO with a new amended section 15 which allowed banks in Pakistan to opt for one of four options when confronted by a case of wilful default: (1) foreclose under the new section 15 of FIRO; (2) file a recovery suit in the banking courts; (3) employ recovery agents to persuade defaulter to honor his/her payments; (4) file a criminal case with the NAB. If done properly, it will help remove one of the biggest deterrents to mortgage financing in Pakistan. Further awareness needs to be created around the foreclosure law and its role to explain it to those operating in banks, judiciary and to consumers.
Read more: Pakistan's PM takes a new initiative: Homes for Homeless
(b)  Supply-side constraints to the housing market
(i)              Access to funding issues for developers
Banks don't provide easy funding to property developers either to start projects for many of the reasons mentioned above. Builder finance is very important to encourage development in this sector. Expensive finance is a major cause why private sector developers target middle-income and higher-income households who can buy houses.
It is estimated that the return on investment (ROI) for these projects for real estate developers fall in the range of 200 percent to 300 percent, whereas in the low-cost housing segment, ROI is as low as 15 percent. The government has to provide incentives for the developers to engage them in such projects.
The city has a center that has prime areas being used by state and government buildings, then the next layers are residential and industry has been placed on the outskirts.
One example to consider is the Ansaar Management Company (AMC) model – they build houses on 60 percent of the buildable area and sell them at cost, on the condition that the buyer moves into the house within 60 days, and cannot sell it, rent it or leave it empty for a period of 4 years to avoid it becoming a ghost housing scheme.
The rest of the 40 percent of the buildable area is sold as plots at premium market rates. These plots, unlike the houses, don't have any conditions attached and deliver a major part of AMC's returns.
(ii)              Regulatory framework
Land titling issues as discussed earlier preclude many private developers from launching schemes – this has continued despite Pakistan move towards digitalizing land titles. Furthermore, even after Pakistan's improvement on the World Bank's ease of doing business –private developers have to apply for and take over 19 NOCs on average for approval for any housing scheme; the process often takes over 3 years and lots of grease money.
Additionally, archaic zoning laws need to be amended on 'housing use and density' especially on the construction of high-rise buildings. Pakistan's planners (the babus and now the courts) have antiquated notions of what type of layout housing schemes should represent.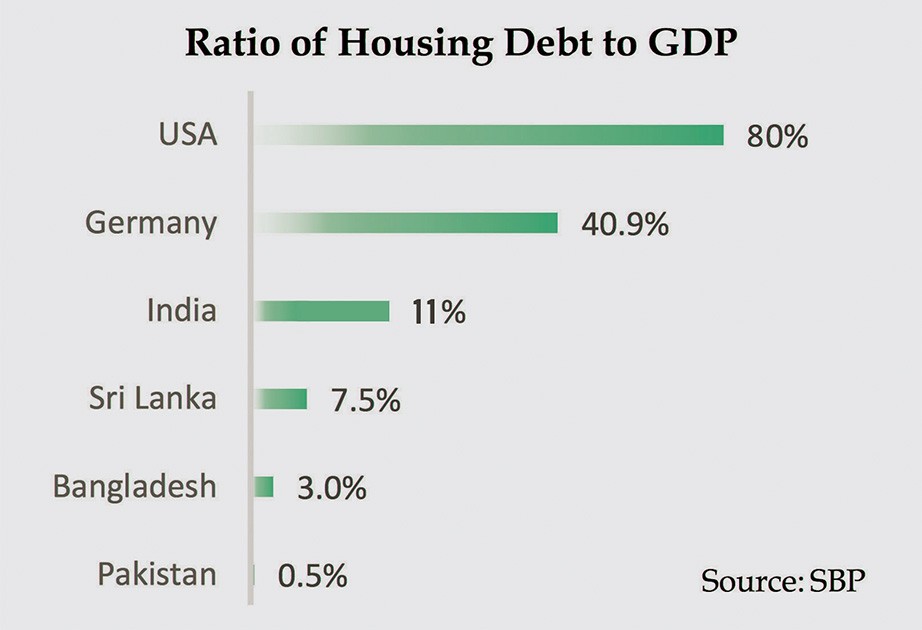 Modern urban planners suggest that the most economically efficient use of resources require high rise buildings with community spaces; where the intermingling of residential units with industry and businesses create thriving economic centers. Islamabad is a classic case of what not to do.
The city has a center that has prime areas being used by state and government buildings, then the next layers are residential (large houses using up lots of lands) and industry has been placed on the outskirts. Holistic planning on low-income housing requires that government use professional urban planners that devise a mixed-use and even better a mixed-income housing plans.
Plans, which include good transportation links exist, employment opportunities are created, social community needs are fulfilled (including the provision of civic services like water, sewerage and solid waste management) and that set out needs for smart cities with green and cheap houses for individuals. They need to impose a regulatory framework that sets standards of housing type to set up as well as the quality of housing. This includes business use and height of buildings.
Read more: Unlocking Dead Capital to unleash the Asian Tiger of Pakistan
(c)  Government actions creating asymmetrical incentives
In the past decade, the government has crowded out the private sector from access to liquidity as banks have found it easier to make risk-free money by investing in government paper – short-term-bills offering high returns with zero risks. The government needs to launch pre-qualification criteria for developers and licensing those with whom it will work.
Naya Pakistan housing program was launched in October 2018. The government announced it would build 5m houses in the next 5 years.
They should be required to submit an occupancy plan, how they intend to continue to maintain and develop public buildings, etc. Singapore is considered the world's best example of public housing provided by the government. It is a success story showcasing mixed-income housing with access to high-quality public transport and education.
82 percent of Singapore's population lives in publicly leased accommodation. Public housing is managed by its Housing & Development Board – leased out for 99 years. The government awards 'merit stars' to contractors who perform well; for every merit star earned they enjoy 0.5% bidding preference when tenders are evaluated.
A core contractor scheme also exists where contractors who have S$500,000 level of capital and minimum of 5 merit stars were guaranteed annual workload for a fixed number of years.
(d)  Naya Pakistan Housing Program
Naya Pakistan housing program was launched in October 2018. The government announced it would build 5m houses in the next 5 years. A major objective of this policy is to increase employment opportunities from the construction sector and the associated 40 downstream industries; estimates as much as 6m additional jobs are being stated.
The construction sector in FY17 contributed 2.7 percent to Pakistan's GDP. After Prime Minister Khan launched the project, National Database Registration Authority (NADRA) issued the registration form for Naya Pakistan Housing Program. The day it was launched the NADRA website went down due to receiving over 10,000 hits per second to download the forms.
According to news reports, the price of 2-marla and 4-marla units which the government plans to construct will fall in the range of PKR 800,000 to PKR 1,200,000.
Within the first ten days, over 125,000 forms were downloaded. Initially, a pilot project has been initiated in seven cities around Pakistan: Sukkur, Quetta, Gilgit, Muzaffarabad, Swat, Islamabad, and Faisalabad. The cities which are being included in the housing project are Lahore, Kasur, Sialkot, Jhelum, Bahawalpur, Layyah, Multan, Vehari, Rahim Yar Khan, and Gujranwala.
Only one person per family is eligible to apply for the scheme. A family includes husband, wife, and children. Preference will be given to candidates who do not own any independent residential unit in Pakistan. According to news reports, the price of 2-marla and 4-marla units which the government plans to construct will fall in the range of PKR 800,000 to PKR 1,200,000.
Read more: The unplanned cities of Pakistan: A problem without solution
Banks are to provide home loan facilities on appropriate terms and conditions where the payment could be cleared in up to 20 years. The exact cost of the project is not clear but Zaigham Rizvi – chairperson of the task force of housing has put the cost of building houses at Rs16 trillion.
Hassan Bakshi, the chairman of the Association of Builders and Developers (ABAD), has estimated that the project will cost in the region of $40-$50 billion. While the cost of a house in the city may be as high as Rs 2.5m, in the rural areas it is expected to be Rs 250,000 to Rs 300,000 per house.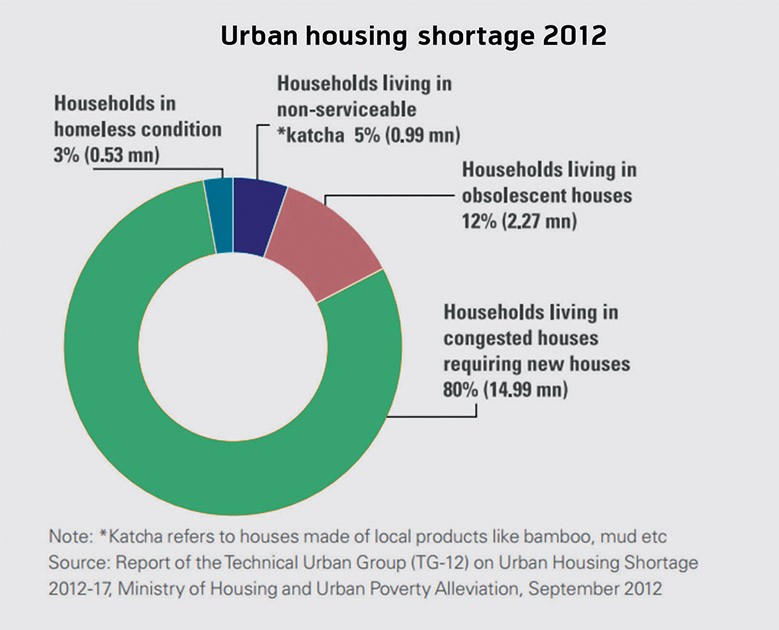 This is because it will mainly consist of extending existing structures that do not currently fall into an international definition of housing– which consists of at least two rooms, a washroom, and a kitchen – in rural areas they will receive loans to add to their existing structures to make it into a house.
(i)              Identify government land to give out
The land bank will be formed to collect details of all government land around the country. According to ABAD – 40 percent of the land around Karachi is owned by provincial and local governments. The idea is to provide land to private builders for development with a mandate that 20-40 percent will be low-cost housing.
(ii)              One stop shop housing facility
Naya Pakistan National housing authority set up to act as a facilitator to bring all the different kind of regulations needed by developers under this umbrella. Like in Dubai, the real estate regulatory body, RERA, gives all licenses to developers within days.
(iii)              Financing
The SBP did a report on low-cost housing finance in 2018 in which it said it would introduce a subsidized financing facility for mortgage takers by giving subsidies to financial institutions.
The SBP said it would refinance up to Rs1 million or 50 percent of the loan amount at a rate of 1 percent to financial institutions so that the end borrower rate would be 5 percent. The remainder of the loan – 50 percent – financing amount would be provided by the banks and DFIs from their own sources at a fixed rate of up to 12% or variable rate of 1-year KIBOR plus a risk premium of up to 4%.
It has been reported that the task force has recommended a 10 percent mark up on bank loans payable on bank loans of Rs 2 m over 20 years, making it around Rs 18,564 monthly instalments. They said that banks should be asked to increase their allocations of housing finance loans to 5% of the total loan portfolio, and in return receive a tax benefit on this portion of their portfolios allocated to housing finance.
Najma Minhas is Managing Editor, Global Village Space. She has worked in New York and London with the National Economic Research Associates and with the Investment Bank, Lehman Brothers and Standard Chartered Bank. She is an analyst and appears on many national Pakistani TV channels. She has contributed pieces for The Foreign policy, The Diplomat, Islamic, The Nation and other newspapers. She has Masters degrees in International Relations from Columbia University and in Economics from the London School of Economics.