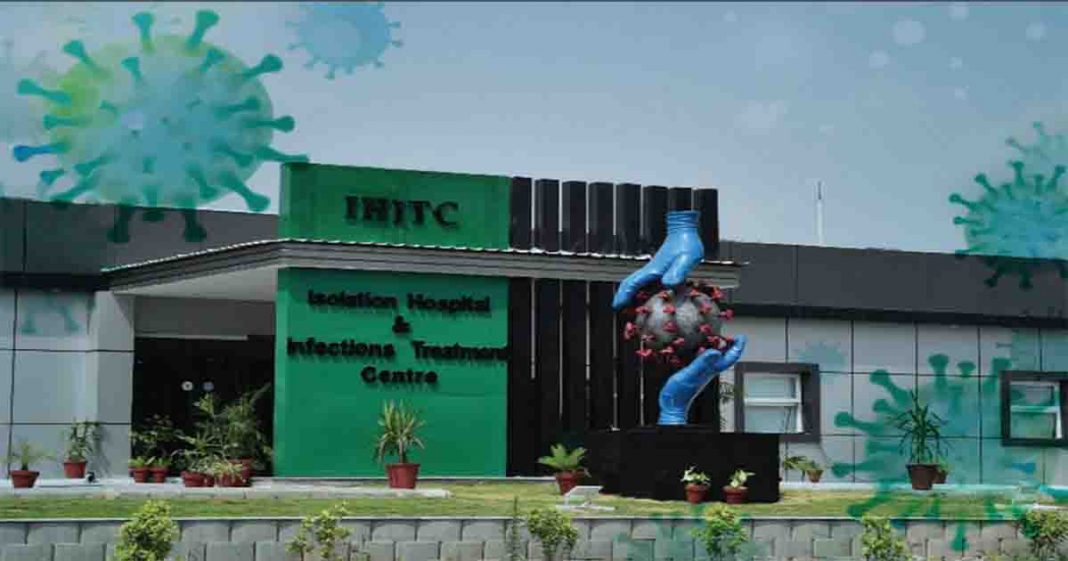 Pakistan did miraculously well in fighting the first two waves of the corona pandemic. By the end of March 2021, 598,197 people had recovered across Pakistan out of the 659,116 that tested positive, making a total recovery rate of 91% so far. 14,256 died, thus creating a fatality rate of 2.1% out of diagnosed cases.
Though these figures cannot be accurate in a country like Pakistan that suffers from severe deficits of management information systems, it showed the resilience of fighting back displayed by an underdeveloped country battling a tough economic downturn made even worse by the deadly pandemic and IMF's strict conditionalities.
Credit can be given to the concept of "smart lockdowns" implemented throughout 2020 by PM Imran Khan's will despite him facing unprecedented criticism and ridicule – especially initially – and countrywide coordination of information and resources by NCOC (National Command and Operation Center).
But the latest third wave – attributed to the British variant – currently hitting Pakistan appears far more dangerous and deadly than the first two waves. More than 50 percent of vents and more than 70 percent of oxygen beds in four major areas of Pakistan were occupied by the end of March 2021.
This now reminds the nation of the fighting spirit that was displayed during the first two waves. In addition to city shutdowns, smart lockdowns, corporate webinars, virtual marriages and funerals, it also reminds us of the prefabricated hospitals like IHITC, Islamabad.
During the first wave, 26 February – April 2020, the government imposed a countrywide lockdown from the end of March 2020 till mid-April. From May-September 2020, cases went down significantly.
The government curbed the spread by opting for smart lockdowns — imposed only in virus hotspots — instead of sweeping restrictions, which helped keep the economy afloat. Pakistan was heralded as a surprise success story across the world.
The National Command and Operation Center (NCOC) was lauded by the prime minister for daily monitoring of the situation, capacity enhancement of the health system, establishing a credible database, better resource management, and appropriate SOPs.
It helped in stabilizing the situation, as pointed above. However, the situation again took a downturn when the second wave hit the country in October 2020. It continued till February 2021.
By the end of February, schools started again, and it was believed that the government would end all corona-related restrictions, but then the even deadlier third wave, which carried the new UK strain, hit Pakistan in early March 2021. From the start in February 2020, the healthcare industry was on the front lines battling the coronavirus that required drastic expansions of hospital and quarantine facilities.
Pakistan, like many other countries, saw great numbers of patients overwhelming the admission capacity of hospitals. Hence, the construction of COVID-19 Emergency Hospitals to effectively respond to the surging number of COVID cases was proposed. A number of these facilities had appeared in China, first in Wuhan and then other cities.
Similar prefabricated hospitals appeared in Mexico, Turkey and the UK. China also aided Pakistan in the Isolation Hospital and Infections Treatment Center (IHITC); Pakistan's first designated prefabricated hospital built by Frontier Works Organization (FWO) and commissioned by National Disaster Management Authority (NDMA) to tackle the COVID cases and other epidemics, built in a record time of 40 days.
Isolation Hospital and Infections Treatment Center (IHITC), Islamabad
The surge of infections had placed massive pressure on the country's existing healthcare system. Islamabad, the Capital city of Pakistan, was especially hard hit by the pandemic – healthcare provision pressure exists in the capital as it serves patients from provinces of Khyber Pakhtunkhwa, Azad Jammu and Kashmir, Gilgit Baltistan and partially upper Punjab districts.
At the beginning of February 2020, Islamabad had only 40 isolation beds available for COVID-19 patients in all its hospitals (these hospitals are not designated for treating infectious diseases).
Thousands of patients with mild to moderate COVID-19 had to be sent home for isolation and observation. With a shortage of hospital beds, Islamabad needed an approach to rapidly and massively scale its capacity for isolating and caring for patients with moderate to serious COVID-19.
NDMA proposed that the country needed to urgently build and operationalize a prefabricated type infectious diseases hospital along the lines of what China had done in Wuhan, and groundbreaking for IHITC was done by PM Imran Khan on 26 March 2020.
As the outbreak in Pakistan reached its most severe point, with thousands of new infections per day, the city saw IHITC being completed on 10 May 2020 and opening its doors to patients soon afterwards.
IHITC was to have five wards and 250 beds and was planned to be constructed as a pre-engineered building structure of 97,000 square foot covered area over 40 Kanals land. The project included the construction of the hospital with allied hospital facilities and equipment.
This hospital primarily aimed to isolate and treat patients with moderate to severe symptoms of COVID-19 from their families and communities while providing medical care, disease monitoring, food, shelter, and social activities in a controlled environment. Unlike other temporary hospitals built elsewhere to cope with the pandemic, IHITC has been designed as a permanent facility to continue functioning even after the current pandemic is over for treating other infectious diseases among the residents of the Capital.
IHITC was a novel concept in Pakistan wherein, as in Wuhan, it quickly yielded a large infectious diseases hospital built by using fast track delivery methodology. Much had been heard of Chinese engineering and construction speed even before the pandemic, but this was altogether new for Pakistan.
The experience with IHITC during the COVID-19 outbreak in Pakistan suggests that it could be vigorously employed in future public health emergencies as well, particularly other epidemics.
Unlike temporary arrangements, here is a customized prefabricated hospital that has been quickly established to provide a large number of hospital beds and appropriate care for patients with moderate to critical symptoms of infectious diseases. Health workers at IHITC can transfer patients to higher-level hospitals for more complex treatments if their disease symptoms don't match the typical infectious illness.
With the arrival of the third wave, IHITC is now readily available – both as a structure and as a concept – to help meet new challenges.
Hospital built on Fast Track – A First in Pakistan
IHITC was unique in a number of ways. Starting from scratch, this hospital was planned, designed, constructed and operationalized by FWO within a short span of just 40 days. This is easier said than done, especially since Pakistan had gone under complete lockdown on 23 March 2020.
No flights were operating in or out of the country, all imports/ exports had been halted, all factories and transport country-wide shutdown, the onset of the holy month of Ramadan and 13 days of heavy rains in-between to hamper construction activities.
Despite all odds and a back-breaking target deadline, construction work on the project started on 1 April 2020 and culminated on 10 May 2020. This was made possible only through intensive resource mapping of all construction materials and equipment immediately in the country, employing the latest project management tools like Primavera, Building Information Modelling (BIM) and drones for the survey, the designers, consultants and contractors living and working together under one roof 24/7 (for responding to changing design/construction requirements efficiently), and strict adherence to COVID-19 preventive SOPs among a large workforce (over 850 workers) throughout the construction period.
The fact that not even a single case of COVID-19 positive was reported among the workers testifies to the discipline maintained by FWO management. In Pakistan, construction is mostly carried out using a traditional project delivery method called design-bid-build, which is not tailored for achieving project completion within minimum time.
Therefore, innovative product delivery methods such as "design as you proceed" and "fast-track delivery" were adopted by FWO to enable design development along with the construction process through integrated project management.
Delivery & construction phase
A pre-engineered structure was preselected as the building material for the obvious reasons of fast track construction. Covid-19 scenario restricted the import of special items for hospital services.
This constraint forced the FWO teams to prepare design on locally manufactured or locally available (imported) materials to incorporate into the structure. A huge quantum of materials was used in the complete project.
Project monitoring through latest project management tools
Technology was vital to ensuring the rapid completion of this project. In the IHITC project, Primavera p6, a project management tool was used to provide fast track project management, scheduling, controlling, monitoring and procurement/supply chain control.
World over Primavera P6 is considered one of the most reliable applications for fast track project management, ensuring efficiency and accuracy. In the IHITC case, the situation was more critical than ordinary fast track projects due to COVID-19 and lockdown in the country, making the procurement and supply chain control the most crucial part of the project.
Overlapping all design, supply and construction phases for the hospital and reducing the time spent on each activity saved time. All critical activities were identified and shared with all relevant stakeholders so that all procurement/ supply activities could be tracked to a specific time and communicated with suppliers to plan deliveries accordingly, thus offering greater confidence in the planning before going into the construction phase.
Building Information Modelling (BIM)
The second crucial technology employed was the Building Information Modelling (BIM). It has become a de-facto standard for construction projects; it provides a virtual environment for the Architecture, Engineering, and Construction (AEC) industry where digital models can be generated, exchanged and merged to increase collaboration and productivity in different project's phases.
To allow effective implementation of BIM and ensure an optimal exchange of information in IHITC, a custom BEP (BIM Execution Plan) focused on BIM rather than CAD (Computer-Aided Design) was developed. BIM was also employed by the Chinese company "China State Construction 3rd Bureau Engineering" to build the pre-fab hospitals in Wuhan and other cities rapidly.
A partner construction company was engaged by FWO that utilizes BIM technology to manage fast-track industrial projects. In these types of projects, an engineering firm performs a complete analysis of each trade, such as structural, mechanical, or electrical, before compiling all analyses into 3D and 4D models.
These models then set out design goals and architectural planning to utilize spaces and volumes effectively and highlight any potential clashes at each phase. Clear benefits emerged from using BIM in the phases of procurement, installation, and construction, etc.
All activities were on a single screen with desired time and work percentages with a virtual element showing on the dashboard. Several work clashes and conflicts were removed before construction started and as the project progressed.
Rapid surveying techniques through UAVs
An aerial survey was conducted using Unmanned Aerial Vehicles (UAVs) – DJI RTK Phantom – where IHITC was set up and surrounding areas around 1100 Kanals. Given the time constraints, there was a clear benefit in using the UAVs since the accuracy achieved with UAV mapping is 2 cm pixel and 5 cm in vertical height.
This data was then used to generate a contour plan. It shows the accurate contours of the area and exact boundaries of different existing structures, which helped plan the IHITC camp, material storage, and to-and-fro movement from the site.
Knowing the exact contours also helped adjust the building's foundations and calculate cut and fill and its accurate impact on scheduling and resources. Watershed Modeling Aerial Imagery was used to perform watershed analysis. It shows the rainwater runoff, which helped the team to identify the risk of water runoff towards the building location.
The runoff data/drawings also helped in identifying the location of the embankment to stop rainwater and also in identifying a drain out location for rainwater. This was important since, during the construction period, it was raining every couple of days, the embankment enabled the team to continue work on most of these days.
Architecture, Construction and Engineering (ACE) teams are thus the unsung heroes that have fought along with the front-line health workers. During the COVID-19 outbreak in Pakistan, IHITC, Islamabad, has consistently provided high-quality medical treatment and care.
This facility has treated COVID-19 patients for the twin cities of Islamabad-Rawalpindi and the critical patients brought from KPK, AJK and GB. As the number of new infections continued to arise, Pakistan is developing new shelter hospitals also. Other countries facing the COVID-19 pandemic were already using rapid construction pre engineered/prefabricated permanent hospitals as part of their public health response even before 2020.
Incorporating the latest project management tools like Primavera, BIM and fast survey techniques used for the first time for IHITC in Pakistan will assist fast track construction of hospitals and equally support permanent constructions. An integrated project management approach can enhance the pace of work for all construction projects, especially design-built modes.
In the future, fast-track construction may also like to consider the Augmented Reality (AR) and Virtual Reality (VR) as a force multiplier tool to modern project management practices. Future design and construction of large hospitals should integrate features facilitating these temporary infrastructures' conversion to permanent hospitals. Who knows how long these pandemics will last.