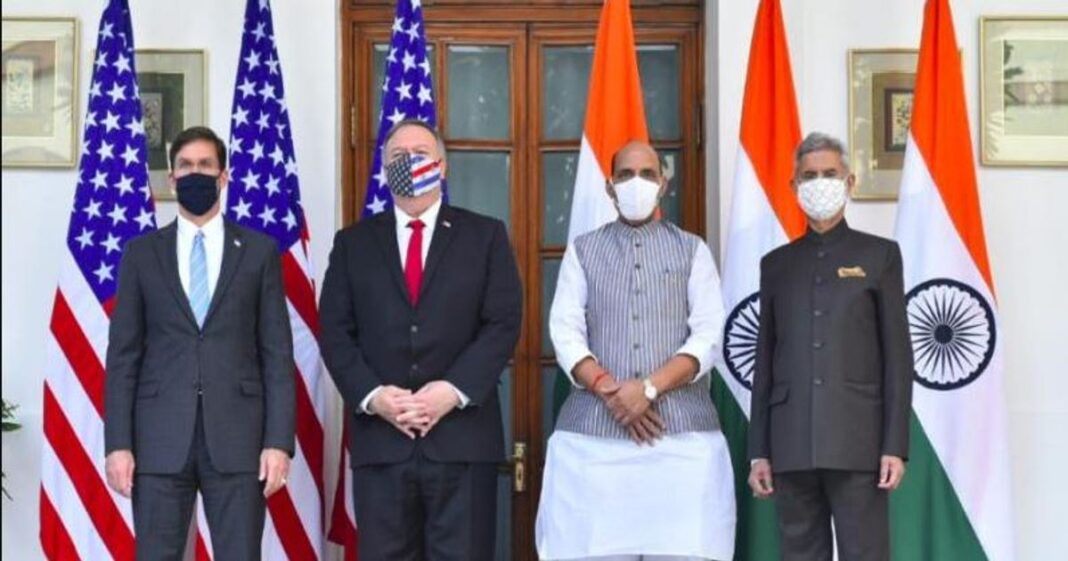 Days before the US elections, a significant development has occurred between India and the US, which will affect the strategic stability of the region. The signing of the Basic Exchange and Cooperation Agreement (BECA), on October 27 during the 2+2 dialogue, marks the fourth critical foundational agreement for military cooperation between India and the United States.
Long a work in progress taking close to ten years; it was principally delayed by India since it would mean the loss of its strategic autonomy — a coveted position India had held firmly since independence. BECA was finally signed — it seems — after the pressure, the Modi government was under due to the embarrassment it faced in the Ladakh conflict with China.
The agreement is essentially a communication agreement that permits the exchange of unclassified and controlled geospatial products, topographical, nautical, and aeronautical data, products and services between India and the US.
Under BECA, India and the US are allowed to share geospatial information and enable interoperability of forces. It will enable the two countries to share military and security information and strengthen their defense partnership. This information includes advanced real-time satellite and topographic data such as maps, nautical and aeronautical charts and geodetic, geophysical, geomagnetic and gravity data. BECA will facilitate the exchange of sensitive information, sharing of classified satellites, sensor data and accurate geospatial data.
What difference will BECA make for Pakistan?
BECA creates an issue of strategic stability in South Asia, which is of paramount concern. For the same reason, Pakistan, being a responsible country, has repeatedly highlighted the serious repercussions of such developments. The Foreign Office of Pakistan issued a statement on BECA, pointing out the strategic instability the agreement would create in the region, given it provides India with access to a range of information that will become vital for targeting missiles and armed drones.
BECA will boost the Indian military's accuracy of automated hardware systems and weapons like cruise missiles, ballistic missiles and drones. It will help India in acquiring armed drones such as MQ-9B from the US and will allow the US to share top-secret satellite and sensor data that would help India in locking targets for its missiles and placing troops.
BECA will also enable the US to provide the latest navigational technology on any fighter jet it supplies to India. This would help India in narrowing the military gap with Beijing making it a more assertive military power in the region. Subsequently, India will pose an increased security threat to China, but mainly, to Pakistan. India will become ahead of Pakistan in military and security technology, improving its battle engagement capability against the country.
With the US sharing its most advanced military hardware and spy satellite imagery under BECA; Indian capability to attack Pakistan with precision will expand. For the US, while BECA was signed with China in mind, its direct fallout is much more likely on Pakistan.
Pakistan has limited options. However, Pakistani strategic analysts suggest some options including that Pakistan needs to demand a similar agreement from the US due to Pakistan's Major non-NATO ally status — to balance the strategic scale in South Asia — otherwise, Pakistan will be forced to consider that the US has taken sides whereas its official position is that 'it is a force of equalizer' and not destabilizer. Refusal by the US has implications worldwide on the 'status' of being a non-NATO ally, if not granted.
Pakistan can also try to engage the US diplomatically, to not share Pakistan-related data with India given its strategic partnership is aimed against China. However, chances for them agreeing to this are remote. Alongside this, Pakistan needs to work on its electronic warfare, as well as, fast track its space program. If negotiations with the US go nowhere, as expected, it needs to start negotiations with existing allies, China and potentially Russia, for intelligence and satellite sharing information.
Pakistan currently does not have access to classified data of Chinese military systems such as their spy satellites or synthetic aperture radar satellites or military communication satellites, as well as other military hardware such as stealth aircraft, highly précised weapon systems, etc. We can sign a comprehensive military defense agreement with China in response to the developing situation stemming from the ever-strengthening US-India military cooperation, with the foundational agreement being signed.
There is a good chance, given Chinese understanding of who BECA is aimed at; it would be willing to engage in more explicit military cooperation agreement — which until now, neither country publicly discussed — not wanting to unnecessarily rile Americans or Indians (Chinese while having a good relationship with Pakistan for decades never rubbed this in India's face).
Previous Agreements
The US signed a total of four foundational agreements with India to promote military cooperation. The first among these agreements was the General Security of Military Information Agreement (GSOMIA). The agreement enables the sharing of military intelligence between the two countries and requires each country to protect the others' classified information. It was signed on January 17, 2002.
The second agreement, the Logistics Exchange Memorandum of Agreement (LEMOA), permits the military of either country to use the others' bases for re-supplying or carrying out repairs. Under this agreement, the US and India can access each other's military facilities for fueling and logistics support on a reimbursable basis. This agreement primarily covers four areas — port calls, joint exercises, training and humanitarian assistance and disaster relief. The deal does not make the provision of logistical support binding on either country and requires individual clearance for each request. It was signed by the two countries on August 29, 2016, in Washington DC, USA.
The third agreement, Communications Compatibility and Security Agreement (COMCASA) is an India-specific version of the Communications and Information Security Memorandum of Agreement (CISMOA). It facilitates access to advanced defense systems and enables the two countries to share secure communication and exchange information on approved equipment during bilateral and multinational training exercises and operations. It is valid for a period of ten years and was signed during the inaugural 2+2 dialogue on September 6, 2018.
Two-Edge Sword for India
BECA will enhance Indian military's capabilities in terms of access to precision topographical, nautical and aeronautical data — and topographical images from US military satellites on a real-time basis for missiles and drones. However, the close geographical proximity of India and Pakistan reduces the potential bearing of these acquired capabilities on Pakistan's threat perception. For the US, it seems to be aimed more towards ensuring the Indian military buildup for the purpose of playing a strategic role in the Indian Ocean in terms of the QUAD (may subsequently move towards making this a military alliance in line with NATO), complimenting the Trump administration's National Security Strategy Policy articulated in 2017.
More importantly, BECA allows the US to provide advance navigational aids and avionics to India in future military aircraft deals, which may negatively affect Indian procurements of defense systems from Russia. It also indicates more significant Indian procurements of US military systems (so far India has managed to balance this relationship to what extent it can do so going forward may be difficult – especially under a Biden administration). It offers the US with an ability to monitor and potentially manipulate Indian defense systems to advance their own interests by hurting Chinese interests in the region where Indian forces operate, whilst disregarding the impact this would create on Indian interests in the area under an increased direct threat. Most interestingly, BECA doesn't make it obligatory for the US to come to Indian aid in case of any military hostilities between India and China or India and Pakistan.
Ending on what may turn out to be remarkably prescient words by the Indian Defense Analyst Pravin Sawhney, who recently wrote in The Wire "By signing the Basic Exchange and Cooperation Agreement (BECA), India has potentially mortgaged the digitized military capability of its three services – army, air force and navy – to the United States. If this sounds startling, it is."